Tigernuts, a tuber belonging to the sedge family,
are similar to potatoes and sweet potatoes
in terms of high nutritional value.
They were discovered by humans 4,000 years ago,
and have been recognized as an important source of nutrition
in Africa and ancient Egypt.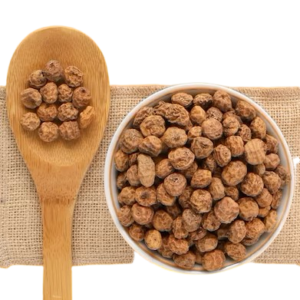 Omega-9 monounsaturated fatty acids
PREVENT cardiovascular diseases

AID IN intestinal peristalsis
IMPROVE skin elasticity and shine

Tigernuts thrive in sandy soils,
making them suitable for cultivation
in areas prone to desertification.
By planting more Tigernuts,
we can improve air and water quality,
as well as the quality of arable land.
This can create a positive economic cycle for farmers.